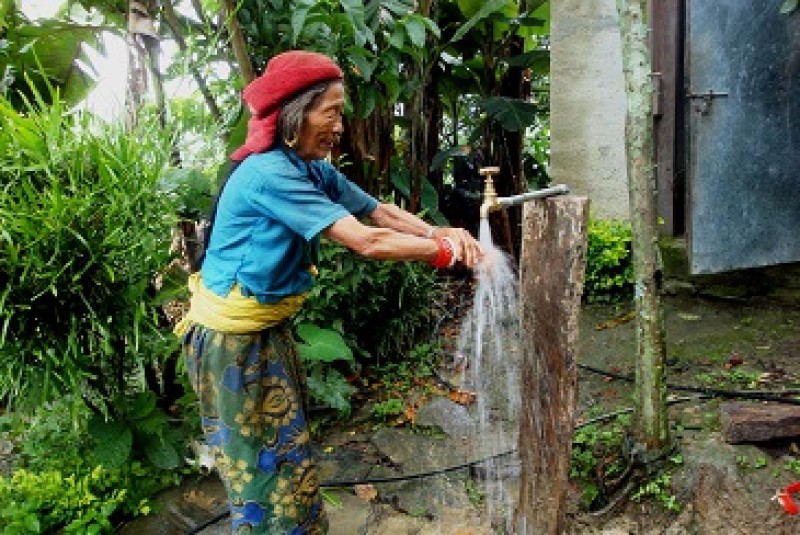 Participatory Rural Health Development Programme – Reconstruction and Rehabilitation Phase (Nov 2015-Dec 2017)
RHDP-RR was an extension of the RHDP Phase II project after the major 2015 earthquakes, and was implemented from November 2015-2017, in Deusa and Waku VDCs of Solukhumbu district and Aiselukharka, Rakhabangdel, Maheshwori, Bakachol, Dubekoledanda VDCs of Khotang District. It was financially supported by the Austrian Development Agency with funds of Austrian Development Cooperation, and implemented by EcoHimal Austria (www.ecohimal.org). Its main purpose was to support reconstruction and rehabilitation activities after the damage and trauma caused by the earthquakes.
Due to widespread destruction of houses, schools, health posts, and to water supply systems and other facilities, the modality of the programme was changed to "build back better" through interventions based on participatory reconstruction and rehabilitation.
There were four major components:
A. Vocational Training based on Seismic Resilience Technologies
3 phases of vocational training were undertaken with the result that 124 skilled individuals were then available for the reconstruction of seismic-resilient homes and other infrastructure in Solukhumbu and Khotang districts.
The 1st and 3rdtraining phases were conducted with the financial support of the Bulldog Trust, UK (www. bulldogtrust.org) under its Nepal Earthquake Recovery Appeal, 2015. The 2nd phase was funded by the Austrian Development Agency with funds deriving from the Austrian Development Cooperation (www.entwicklung.at) and the Alpine Convention (www.alpconv.org ); the programme was implemented by Eco Himal Austria (www.ecohimal.org).
B. Reconstruction and Renovation of Drinking Water Systems
31 drinking water systems, damaged in the earthquakes, were reconstructed and renovated in Deusa and Waku VDCs of Solukhumbu district with the financial support from the Austrian Development Agency/Austrian Development Cooperation (www.entwicklung.at), Eco Himal Sudtirol – Alto Adige (www.ecohimal.bz.it) and the Samaritan Bond (www.samariterbund.net).
C. Cash for Work
Reconstruction of the damaged infrastructure was supported by a Cash for Work initiative, thus households in Deusa and Waku VDC were provided a job and income during the traumatic post-earthquake period. In addition, capacities of the affected households were significantly enhanced on building skills, segregation??, recycling, re-use and disposal of debris; they were also provided with tools and safety equipment essential during the demolishing and reconstruction activities. The very practical training provided resulted in increased knowledge and enhanced skills of the local population, both males and females, and EcoHimal and other local partners supported them during the demolishment of seriously damaged houses, the safe removal and management of debris, the mitigation of health hazards, the utilization of reusable rubble and debris, and the maintenance of improved sanitation and hygiene systems. The programme was implemented with the financial support of the Austrian Development Agency/ Austrian Development Cooperation (www.entwicklung.at), and The Glacier Trust (www.theglaciertrust.org).
D. Disaster Risk Reduction
A reference book on disaster preparedness and a response plan has been published. The book covers preparedness and response strategies and components for protecting lives and livelihoods when natural disasters strike.