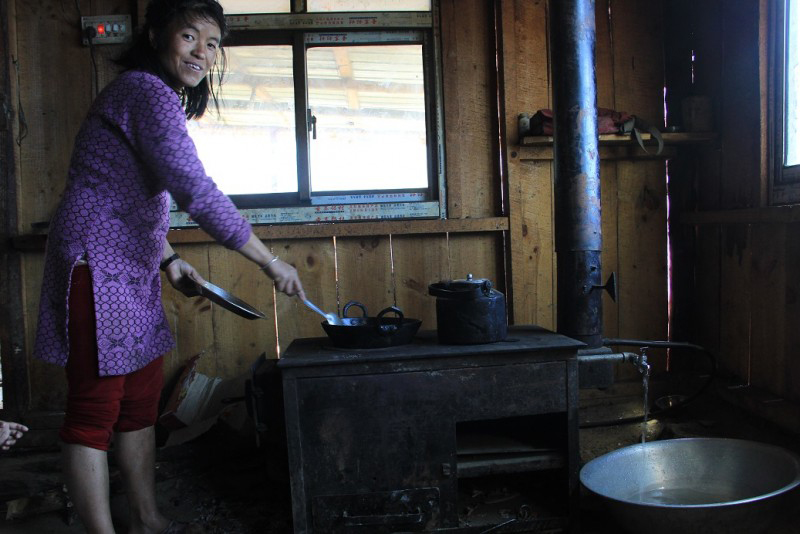 An Environment Conservation Pilot Project –the Improved Cooking Stove Project (ICS) (Jul 2016 - Dec 2017)
After a comprehensive needs assessment in 2014, a pilot project was designed and implemented from July 2016 to December 2017, to support bio-diversity conservation and to promote the more rational use of the natural resources. The project area lies in a remote area,with no road connection, 6 days walking distance from the district headquarters of Sankhuwasabha, Khandbari, and within the bufferzone of the Makalu Barun National Park, which borders Tibet.
The project formulated three main objectives:
· the reduction of firewood consumption through promotion of an efficient improved cooking stove;
· the testing and demonstration of the most appropriate model of metallic stove;
· raising the awareness of the local communities in relation to forest conservation, soil erosion and its effects on the environment and the ecology of this remote area.
The demand for further work and a full programme of implementation was requested by the local government in written form. Similarly, beneficiaries and the local community, local community-based organizations and social leaders expressed their positive feedback to the early trials and requested for an extension of the project.
Considering these widespread requests, the success of the pilot phase and the progress achieved, EcoHimal are currently attempting to source funds to implement a full scale project in partnership with the local government and stakeholders. A proposal for funding is available on request.