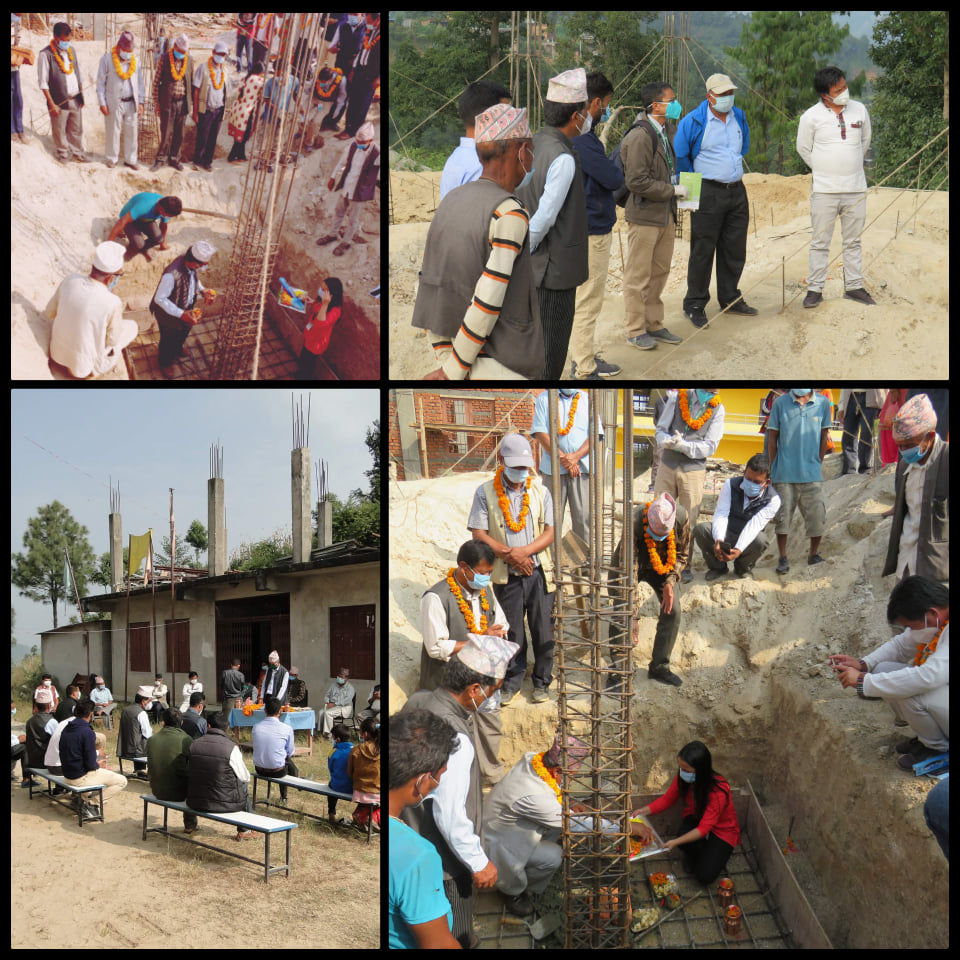 Stone laying ceremony for new building of Shree Tapeshwor Secondary School
The school buildings located at Mandandeupur municipality were completely destroyed by the devastating earthquake of 2072 BS. Students studying in these schools were in critical condition as classes are to date being held on ground or in a ruined building. On Friday, 16th of October 2020, a formal ceremony was held to lay the foundation of Shree Tapeshwor Secondary School, Mandandeupur Municipality, which is a step prior to the construction of building.
The function was presided over by Mr Harka Bahadur Ghising the Chairperson of School Management Committee and Mayor of MDM Mr Tok Bhadur Waiba who laid the foundation stone of new building for Tapeshwar SS. Mr. Narayan Dhakal, Executive Director of EcoHimal Nepal was the special guest for the event. Mr. Netra Prasad Dhakal, Ward Chairperson- 5, Mr. Dilli Prasad Acharya, Ward Chairperson- 6, Mr. Sher Bahadur Dotel and Tol Prasad Dhakal were invited in dais as the Guest for the program. Schools teachers, EcoHimal Staffs, Station Manager of Radio Namobuddha, and local people of the community were seated as guest. School Principal, Mr. Chitra Prasad Dulal provided the welcome remarks.
According to the tripartite agreement for construction held on Falgun 11, 2076 (23rd February 2020) under the chairmanship of Mr. Tok Bahadur Waiba and other participants including Mrs. Nirmala Shahi, the Deputy Mayor, ward chairperson of ward number 9, 5, 6 and Chairpersons of School Management Committee and School principals, EcoHimal Nepal will be bearing 90% financial investment and additional 10% by Mandandeupur municipality for building construction. Religious priest from the same community started the prayers before laying the base foundation. The soil was worshipped with the spiritual chanting by the priest. Then Mayor Mr. Tok Bahadur Waiba placed the first brick in the footing initiating the foundation work.
Altogether, there were 54 participants in the program. Due to COVID-19 pandemic, social distancing protocol was thoroughly followed and all preventive measures were adopted.