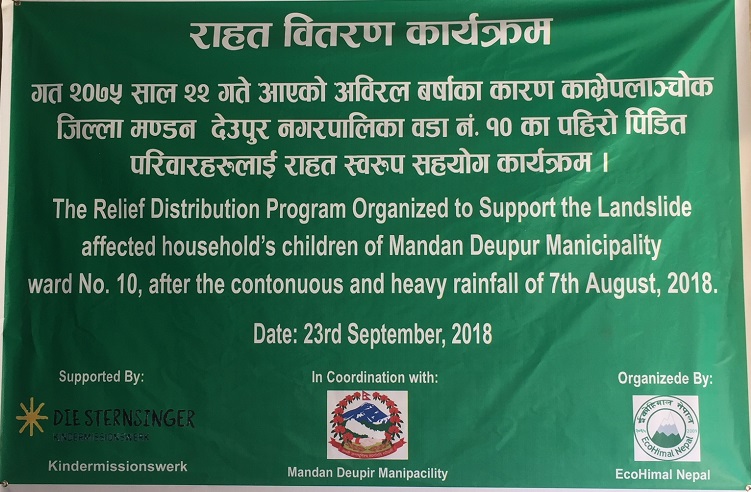 Landslide Relief Distribution Program
Introduction
On 22nd September 2018, EcoHimal Nepal organized the relief distribution program to support the landslide affected household's children of Mandan Deupur Municipality ward no. 10, Kavrepalanchok District, after the continuous and heavy rainfall of 7th August 2018 in coordination with Mandan Deupur Municipality with the financial support of Kindermissionwerk, Germany.
Participants of Distribution Program
The Mayor of Mandan Deupur Municipality, the Executive Director of EcoHimal Nepal, treasurer and executive member of EcoHimal Nepal, chief administrative officer, ward chairperson and ward member of Mandan Deupur Ward 10 along with staff members of EcoHimal Nepal has distributed the relief to the landslide affected household's children.
List of Materials Distributed
Blue CGI sheet (26 gaze, 8 feet) 2 bundles/household to 19 fully damaged households
Warm clothes to 19 fully damaged households (blanket 2/household, jacket to 105 family members of 19 households, jacket and trouser 2 sets to 14 children of 19 households)
Sleeping mattress 2 set and mosquito net 2 set to 19 households
Day snack cost support to schoold students of 3 schools (Kalika basic, Himjyoti basic and Kulachaur basic shcools) for 1 month
Stationeries (copy, pencil, bollpen, eraser, sharpner and color pensil) support to school students of 3 schools (Kalika basic, Himjyoti basic and Kulachaur basic)
School uniform support to Kalika basic and Himjyoti basic schools students
School bag support to students of 3 schools (Kalika basic, Himjyoti basic and Kulachaur basic)
School uniform support to Kalika basic and Himjyoti basic schools students